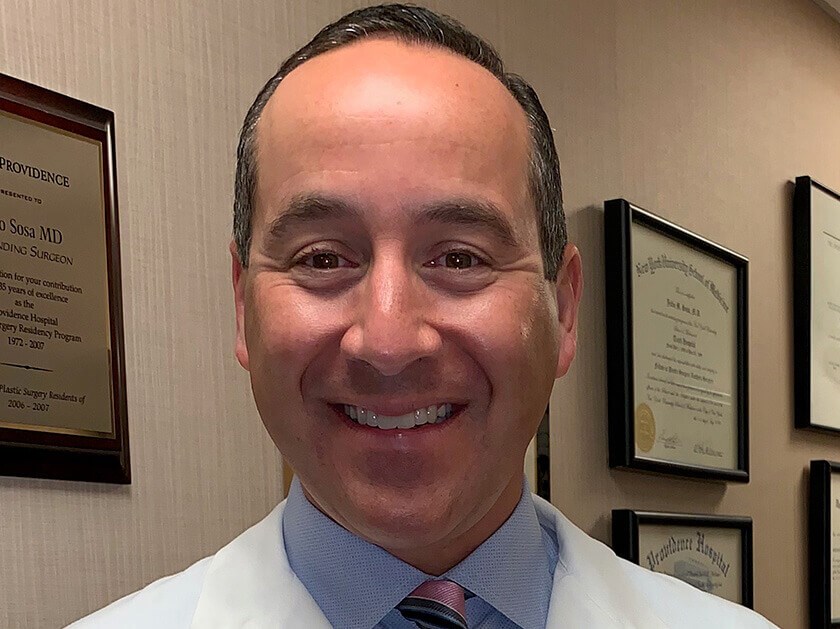 Dr. Julio M. Sosa is an experienced, board-certified plastic surgeon in West Bloomfield, MI who specializes in aesthetic and reconstructive procedures for the face, breast, and body. As the owner and lead practitioner of Bloomfield Plastic Surgery, Dr. Sosa has been recognized for his passion and dedication to achieving the best possible results for his patients. As a former student of renowned plastic surgeon Dr. Ian Jackson, he has held a strong personal interest in the fields of plastic and reconstructive surgery since early in his education and training. Dr. Sosa was drawn to these industries because of the wide variety of procedures and creative challenges that regularly arise. In addition, Dr. Sosa is a lifelong resident of the state of Michigan and the proud parent of three children along with his wife, Julie.
Dr. Sosa attended medical school at the Wayne State University School of Medicine in Michigan. He completed his surgical residency under the mentorship of Dr. Ian T. Jackson at the Providence Hospital in Southfield, MI. He later moved to New York where he completed a fellowship in Aesthetic Plastic Surgery at the world renowned Manhattan Eye Ear and Throat Hospital alongside Dr. Sherrell Aston and Dr. Daniel Baker. Following this prestigious accomplishment, he entered the private sector and has been practicing plastic and reconstructive surgery for more than two decades.
Recognized by Hour Detroit magazine as a top plastic surgeon for multiple years, Dr. Sosa is known for consistently delivering aesthetically pleasing and natural-looking outcomes to his patients. Among the procedures he performs, facelifts, blepharoplasty, cosmetic and reconstructive breast surgery, as well as body contouring are among his most popular. He has been thanked repeatedly by patients for taking the time to address their concerns while providing the best, individualized care possible. His areas of expertise include all aspects of aesthetic surgery related to the head and neck, body contouring, and aesthetic or reconstructive breast surgery. He is also highly experienced in performing nonsurgical procedures, such as BOTOX, and a variety of other facial rejuvenation treatments.
Memberships and Associations
Dr. Sosa is accredited and affiliated with the following organizations:
American Society of Plastic Surgeons
American Board of Plastic Surgery
American College of Surgeons
Michigan Academy of Plastic Surgeons
Michigan State Medical Society
Midwest Medical Mission
Oakland County Medical Society
Wayne State University School of Medicine Alumni Association
Reviews
"Very happy with my breast reduction. I've had no complications and am healing as I expected. My breasts are symmetrical and a size that is proportionate with my frame. Dr. Sosa seems like a skilled surgeon and the whole process happened the way I was told it would."
Anonymous
RateMDs
"I consulted with Dr. Sosa twice, but was forced to choose a different surgeon due to logistical/insurance issues that made going forward with my operation impossible. Even though my procedure with the other clinician turned out well, my recovery was undermined by his caustic, abusive personality, for which he is known. I was mistreated by him. Dr. Sosa, on the other hand, approached my case professionally, with warmth and compassion. For this I highly recommend Dr. Sosa, and his fine staff."
A.S.
Healthgrades
"What a very professional and nice guyPuts you at ease in a very first meeting and continues throughout a procedure"
M.S.
Healthgrades
"I was very Happy with Dr. Sosa no complaints I would recommend him over and over again I have gained a whole level of confidence"
Anonymous
RateMDs
Related Posts