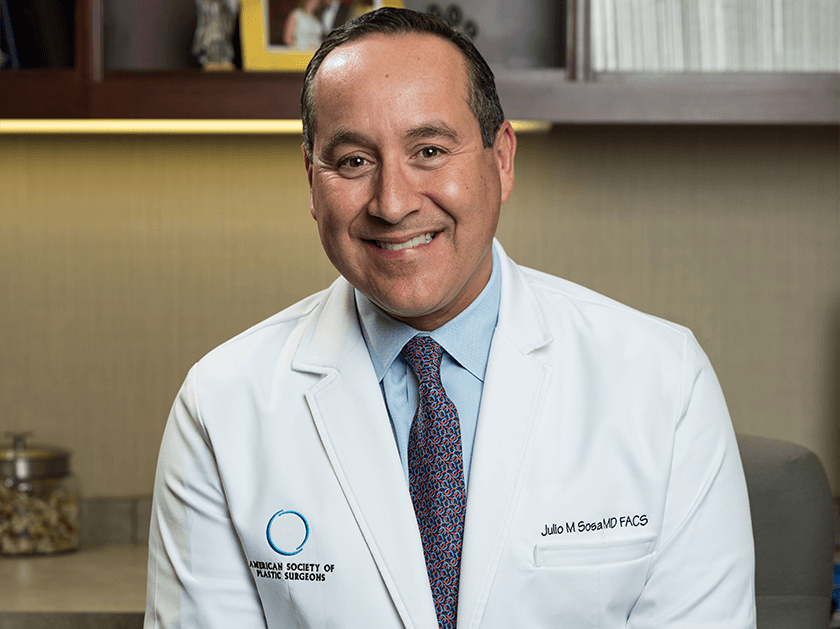 Dr. Julio M. Sosa is an experienced, board-certified plastic surgeon in West Bloomfield, MI who specializes in aesthetic and reconstructive procedures for the face, breast, and body. As the owner and lead practitioner of Bloomfield Plastic Surgery, Dr. Sosa has been recognized for his passion and dedication to achieving the best possible results for his patients. As a former student of renowned plastic surgeon Dr. Ian Jackson, he has held a strong personal interest in the fields of plastic and reconstructive surgery since early in his education and training. Dr. Sosa was drawn to these industries because of the wide variety of procedures and creative challenges that regularly arise. In addition, Dr. Sosa is a lifelong resident of the state of Michigan and the proud parent of three children along with his wife, Julie.
Dr. Sosa attended medical school at the Wayne State University School of Medicine in Michigan. He completed his surgical residency under the mentorship of Dr. Ian T. Jackson at the Providence Hospital in Southfield, MI. He later moved to New York where he completed a fellowship in Aesthetic Plastic Surgery at the world renowned Manhattan Eye Ear and Throat Hospital alongside Dr. Sherrell Aston and Dr. Daniel Baker. Following this prestigious accomplishment, he entered the private sector and has been practicing plastic and reconstructive surgery for more than two decades.
Recognized by Hour Detroit magazine as a top plastic surgeon for multiple years, Dr. Sosa is known for consistently delivering aesthetically pleasing and natural-looking outcomes to his patients. Among the procedures he performs, facelifts, blepharoplasty, cosmetic and reconstructive breast surgery, as well as body contouring are among his most popular. He has been thanked repeatedly by patients for taking the time to address their concerns while providing the best, individualized care possible. His areas of expertise include all aspects of aesthetic surgery related to the head and neck, body contouring, and aesthetic or reconstructive breast surgery. He is also highly experienced in performing nonsurgical procedures, such as BOTOX, and a variety of other facial rejuvenation treatments.

Memberships and Associations
Dr. Sosa is accredited and affiliated with the following organizations:
American Society of Plastic Surgeons
American Board of Plastic Surgery
American College of Surgeons
Michigan Academy of Plastic Surgeons
Michigan State Medical Society
Midwest Medical Mission
Oakland County Medical Society
Wayne State University School of Medicine Alumni Association
Reviews
"I've referred many people to Dr. Sosa-- even my wife. He listens, he is compassionate. Explains things well and does an excellent job-- without that part, I could not recommend him."
J.W.
Facebook
"Cannot say enough about the care and expertise Dr. Sosa has demonstrated on initial and repeat visits."
Anonymous
RateMDs
"Absolutely amazing experience. Had a double mastectomy 15 years prior with latissimus dorsi flap on diseased breast due to previous radiation treatment. Outcome was two asymmetrical breasts and uneven nipples. Dr. Sosa was professional, kind and realistic about the potential outcome of the fix. I am absolutely so pleased with the results. He did everything he said he would do and met every expectation I had. I feel so much better about myself. Also, his entire staff was welcoming, accommodating and took the time with me. I never felt rushed or processed through. I will refer Dr. Sosa to everyone I know."
L.T.
Facebook
"I just finished surgery #2 with Dr Sosa for my breast reconstruction after breast cancer. I am very happy with my results. He was transparent with me with what to expect results wise, surgical recovery, and limitations. He spent a lot of time with my at my first appointment before surgery and answered all my questions. In the year following that he has been my doctor he has answered every question I've had. His bed side manner, work, and personality are all 5 stars in my book. Out of all the doctors on my medical team Dr Sosa is my favorite."
Anonymous
RateMDs
"Breast implant removal and lift - I highly recommend Dr. Sosa. I came from out of state on the referral from my sister. He explained the procedure I wanted in detail. The results were fantastic. Great doctor."
Anonymous
Vitals
Related Posts